Sample Questions
1. Compared to others, how do you rate your willingness to take financial risks?

Extremely low risk taker.

Very low risk taker.

Low risk taker.

Average risk taker.

High risk taker.

Very high risk taker.

Extremely high risk taker.
2. How easily do you adapt when things go wrong financially?

Very uneasily.

Somewhat uneasily.

Somewhat easily.

Very easily.
3. When you think of the word "risk" in a financial context, which of the following words comes to mind first?

Danger.

Uncertainty.

Opportunity.

Thrill.
...

Sample Personal Financial Risk Tolerance Report
Your Risk Tolerance Score
Your Risk Tolerance Score enables you to compare yourself to a representative sample of the adult population. Your score is 54. This is a slightly-higher-than-average score, higher than 64% of all scores.
When scores are graphed they form a bell-curve as shown below. To make the scores more meaningful, the 0 to 100 scale has been divided into seven Risk Groups. Your score places you in Risk Group 4.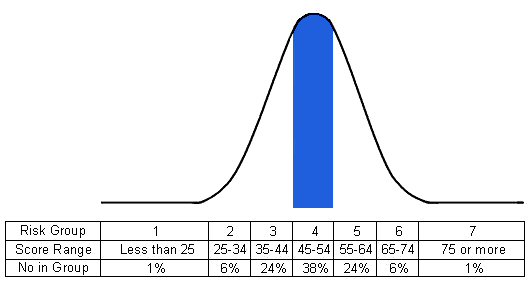 In answer to the last question, you estimated your score would be 60. Most people under-estimate their score by a few points. However, yours was an over-estimate. When compared to others you are somewhat less risk tolerant than you thought you were.
Your Risk Group
The description of Risk Group 4 which follows provides a summary of the typical attitudes, values, preferences and experiences of those in your group. It summarizes how those in your Risk Group usually answer the risk tolerance questionnaire. Two of your answers differed from this description. They are shown in italics below the relevant part and in the Summary section that follows. These differences fine-tune the description to you personally.

Making Financial Decisions

They think of "risk" as "uncertainty" and are prepared to take a medium degree of risk with their financial decisions (Q3 & 10). They have a reasonable amount of confidence in their ability to make good financial decisions and usually feel somewhat optimistic about their major decisions after they make them (Q12 & 7).

When faced with a major financial decision some are usually more concerned about the possible losses while others are usually more concerned about the possible gains (Q6). They would be slightly more likely to choose more job security with a small pay increase than less job security with a big pay increase (Q5).

...

Borrowing

If they were borrowing a large sum of money at a time when it was not clear which way interest rates were going to move and when the fixed interest rate was 1% more than the variable rate, most would choose to have 50% of the loan at fixed interest but some would choose 75% or 100% (Q23).

You would choose to have only 25% at fixed interest.
...

Summary
View Full Sample Questionnaire and Report
Australia & New Zealand
Canada (French)
Germany (German)
South Africa (Afrikaans)
United Kingdom
United States